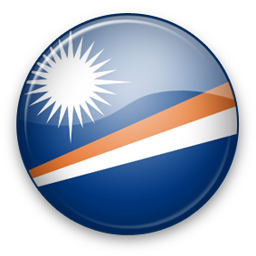 The Marshall Islands, officially the Republic of the Marshall Islands (Marshallese: Aolepān Aorōkin M̧ajeļ), is an island country located near the equator in the Pacific Ocean, slightly west of the International Date Line. Geographically, the country is part of the larger island group of Micronesia. The country's population of 68,480 people is spread out over 29 coral atolls, comprising 1,156 individual islands and islets. The islands share maritime boundaries with the Federated States of Micronesia to the west, Wake Island to the north, Kiribati to the south-east, and Nauru to the south. The most populous atoll is Majuro, which also acts as the capital.
Micronesian colonists gradually settled the Marshall Islands during the 2nd millennium BC, with inter-island navigation made possible using traditional stick charts. Islands in the archipelago were first explored by Europeans in the 1520s, with Spanish explorer Alonso de Salazar sighting an atoll in August 1526. Other expeditions by Spanish and English ships followed, with the islands' current name stemming from British explorer John Marshall (1788).


1

Our Charmed Life
http://www.ourcharmedlife.net/

2

Our Marshall Island's Adventure!
http://ourmarshallislandsadventure.blogspot.com/

3

Life on the Marshall Islands
http://hannahts.blogspot.com/

4

Snapshots of Mike and Lisa
http://mikeandlisajean.blogspot.com/

5

Friend of the Soul
http://friendofthesoul.blogspot.com/

6

Khristine Pettingill
http://elderdanielpettingill.blogspot.com/

7

MARSHALL ISLAND MAJURO MISSION
http://dandeemabeymission.blogspot.com/

8

Clarks Pacific
http://clarksmarshalls.blogspot.com/