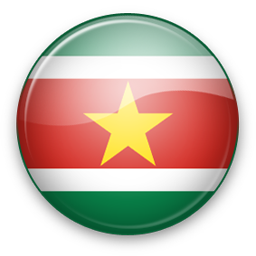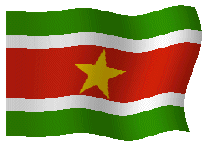 Population : 436 494 habitants (est. 2002)
Pays voisins : Guyana, Guyane, Brésil
Densité : 2.67 hab./km²
Superficie : 163 265 km²
Capitale : Paramaribo
Principales villes : Nieuw Nickerie, Marienburg, Moengo, Totness
Point culminant : Wilhelmina Gebergte 1 286 m.
Langue(s) parlée(s) : Sranan, Hindi, Anglais créole, Javanais, Ndjuka, Saramaccan
Langue(s) officielle(s) : Néerlandais
Monnaie : Florin du Surinam
Fête nationale : 25 novembre
Statut : République


1

•●♫●MissMimiiDoll●♫●•
http://missmimiidoll.blogspot.com/

2

Suriname 2013 - Nieuw-Amsterdam //
http://lisavandenborne.blogspot.com/

3

De avonturen van Charlene in Paramaribo
http://charlenevanhoorde-inparamaribo.blogspot.fr/

4

Freelance in Suriname
http://freelance-in-suriname.blogspot.com/

5

Kleinschalige goudwinning in Suriname - Small scale gold mining in Suriname
http://goudwinning-suriname.blogspot.com/

6

Surijana
http://surijana.blogspot.com/

7

Gloria Annemarie Dubois - Vivere senza rimpianti -
http://gloriadubois.blogspot.com/

8

SURINAME!
http://sigenmaaikesuriname.blogspot.com/

9

EXPERIENCIAS BLOG
http://soydori.blogspot.com/

Suriname, officially the Republic of Suriname , is a country in northern South America. It borders French Guiana to the east, Guyana to the west, Brazil to the south, and the Atlantic Ocean to the north. Suriname was first colonized by the British, and captured by the Dutch in 1667, who governed it as Dutch Guiana until 1954. The country of Suriname achieved independence from the Kingdom of the Netherlands on 25 November 1975. Suriname, the Netherlands Antilles, and the Netherlands itself have cooperated on a basis of equality since 1954.



At just under Suriname is the smallest sovereign state in South America; French Guiana, while less extensive and populous, is an overseas department of France. It has a population of approximately 560,000, most of whom live on the country's north coast, where the capital Paramaribo is located