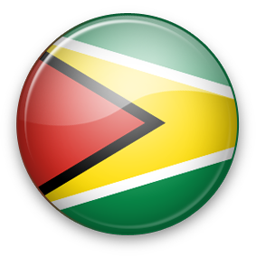 Population : 698 209 habitants (est. 2002)
Pays voisins : Vénézuéla, Surinam, Brésil
Densité : 3.25 hab./km²
Superficie : 214 970 km²
Capitale : Georgetown
Principales villes : Linden, New Amsterdam, Corriverton, Mahaicony
Point culminant : Mount Roraima 2 772 m.
Langue(s) parlée(s) : Anglais créole
Langue(s) officielle(s) : Anglais
Monnaie : Dollar de Guyana
Fête nationale : 23 février

1

Land of Many Waters
http://pandainguyana.blogspot.com/

2

Virtually everything....
http://fatimamohamed.blogspot.com/

3

Fatima Mohamed Virtually everything
http://fatimamohamed.blogspot.com/

Guyana officially the Co-operative Republic of Guyana and previously a colony of the United Kingdom, is a sovereign state on the northern coast of South America that is culturally part of the Anglophone Caribbean. Guyana was a former colony of the Dutch and, for over 200 years, the British. It is the only state of the Commonwealth of Nations on mainland South America, and the only one on that continent where English is the official language. It is one of the few Caribbean countries that is not an island. It is also a member of the Caribbean Community (CARICOM), which has its secretariat headquarters in Guyana's capital, Georgetown. Guyana achieved independence from the United Kingdom on 26 May 1966, and became a republic on 23 February 1970. In 2008, the country joined the Union of South American Nations as a founding member.



Historically, the region known as "Guiana" or "Guyana" comprised the large shield landmass north of the Amazon River and east of the Orinoco River known as the "Land of many waters". Historical Guyana is made up of three Dutch colonies: Essequibo, Demerara, and Berbice. Modern Guyana is bordered to the east by Suriname, to the south and southwest by Brazil, to the west by Venezuela, and on the north by the Atlantic Ocean.



At 215,000 km2, Guyana is the third-smallest independent state on the mainland of South America (after Uruguay and Suriname). Its population is approximately 770,000.