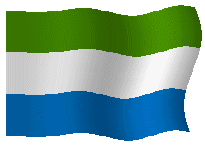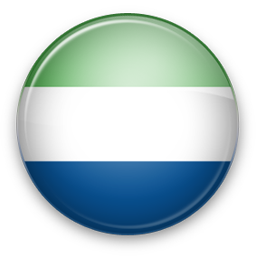 Population: 5 614 743 habitants (est. 2002)
Neighboring countries: Guinée, Liberia
Density: 78.27 hab./km²
Area: 71 740 km²
capital: Freetown
Top Cities: Bo, Kenema, Makeni, Bonthe, Port Loko
Mountain Highlight: Loma Mansa 1 948 m.
Language: Mende, Themne, Limba, Kono, Kuranko
Official: Anglais
Currency: Leone
National Day: 27 avril
Status: Démocratie constitutionnelle

Individuals

desiring

help me

hired

for the expansion of

this site

have this

badge




1

Michelle's Adventures
http://michellejoy06.blogspot.com/

2

Mizie
http://miziezwriteworld.blogspot.com/

3

Sierra Leone Freetown Mission Blog
http://sierraleonefreetownmission.blogspot.com/

4

thefatoublog
http://thefatoublog.blogspot.com/

5

Sierra Leone Girls
http://sierraleonegirls.blogspot.com/

6

Attitude of Gratitude! Blessed
http://soulfulfilm-attitudewithgratitude.blogspot.com/

7

EducAid and Education in Sierra Leone
http://educaidsierraleone.blogspot.com/

Sierra Leone, officially the Republic of Sierra Leone, is a country in West Africa. It is bordered by Guinea to the northeast, Liberia to the southeast, and the Atlantic Ocean to the southwest. Sierra Leone has a tropical climate, with a diverse environment ranging from savannah to rainforests. The country covers a total area of and is divided into four geographical regions: the Northern Province, Eastern Province, Southern Province and the Western Area; which are subdivided into fourteen districts. The districts have their own directly elected local government known as district council, headed by a council chairman.



Freetown, located in the Western Area of the country, is the capital, largest city as well as its economic, commercial and political centre. Bo, located in the Southern Province of the country, is the country's second largest city and the second major economic and commercial centre. The country is a constitutional republic and with an estimated population of 6 million (2011 United Nations estimate).



Sierra Leone has relied on mining, especially diamonds, for its economic base. The country is among the largest producers of titanium and bauxite, and a major producer of gold. The country has one of the world's largest deposits of rutile. Sierra Leone is also home to the third largest natural harbour in the world, where shipping from all over the globe berth at Freetown's famous Queen Elizabeth II Quay. Despite this natural wealth, 70% of its people live in poverty.



Sierra Leone is a predominantly muslim country, though with an influential Christian minority. Sierra Leone is ranked as one of the most religiously tolerant nations in the world. People are often married across ethnic and religious boundaries. Muslims and Christians collaborate and interact with each other peacefully http://canvassnews.com/?p=129. The Krio Language unites all the different ethnic groups, especially in their trade and interaction with each other.



In 1462, the area that is now Sierra Leone was visited by the Portuguese explorer Pedro de Sintra, who named it Serra Leoa, meaning "Lioness Mountains". Sierra Leone later became an important centre of the transatlantic trade in slaves until 11 March 1792 when Freetown was founded by the Sierra Leone Company as a home for former enslaved from (or freed by) the British Empire. In 1808, Freetown became a British Crown Colony, and in 1896, the interior of the country became a British Protectorate;



Between 1991 and 2002 the Sierra Leone Civil War devastated the country leaving more than 50,000 people dead, much of the country's infrastructure destroyed, and over two million people displaced in neighbouring countries as refugees; mainly to Guinea, which was home to over 600,000 Sierra leonan refugees.
Copyright
Wikipédia