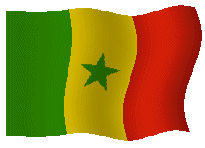 Population: 10 589 571 habitants (est. 2000)
Neighboring countries: Mauritanie, Mali, Guinée Bissau, Guinée, Gambie
Density: 53.98 hab./km²
Area: 196 192 km²
capital: Dakar
Top Cities: Thiès, Kaolack, Ziguinchor, Saint Louis, Diourbel
Mountain Highlight: Futa Jaldon Foothills 581 m.
Language: Wolof, Tukolor, Serer, Mandinka, Dyola
Official: Français
Currency: Franc CFA
National Day: 4 avril
Status: République



1

Six Bougies
http://www.sixbougiesblog.com/

2

24 POEMES/S
http://24poemeseconde.blogspot.com/

3

Rak, bieganie i Senegal
http://raknieborak-aniaha.blogspot.com/

4

Ceux qui vivent, ce sont Ceux qui luttent...
http://le-warrior.blogspot.com/

5

Swaggering Pirates
http://swaggeringpirates.blogspot.com/

6

Adiima Style
http://adiimastyle.blogspot.com/

7

charlewing myri'am
http://charlewingmyriam.blogspot.com/

8

Naty Mbaye
http://naty2apples.blogspot.com/

9

les infos du jour
http://douko123.blogspot.com/

10

LE CONSEIL DES PASTEURS DE LA RÉGION DE KOLDA
http://leconseildespasteursdekolda.blogspot.com/

11

FashionDRA
http://fashiondra.blogspot.com/

Senegal , officially the Republic of Senegal (République du Sénégal, ), is a country in western Africa. It owes its name to the Sénégal River that borders it to the east and north. Senegal is externally bounded by the Atlantic Ocean to the west, Mauritania to the north, Mali to the east, and Guinea and Guinea-Bissau to the south; internally it almost completely surrounds The Gambia, namely on the north, east and south, exempting Gambia's short Atlantic Ocean coastline. Senegal covers a land area of almost , and has an estimated population of about 13 million. The climate is tropical with two seasons: the dry season and the rainy season.



Dakar, the capital city of Senegal, is located at the westernmost tip of the country on the Cap-Vert peninsula. About 500 kilometres (300 mi) off the coast, in the Atlantic Ocean, lie the Cape Verde Islands. During the 17th and 18th centuries, numerous trading posts, belonging to various colonial empires, were established along the coast. The town of St. Louis became the capital of French West Africa (Afrique occidentale française, or AOF) before it was moved to Dakar in 1902. Dakar later became its capital in 1960 at the time of independence from France.