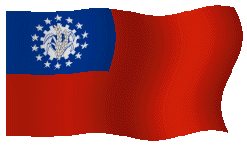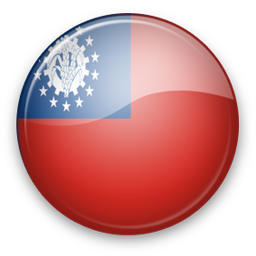 Population : 42 238 224 habitants (est. 2002)
Pays voisins : Bangladesh, Inde, Tibet, Chine, Laos, Thaïlande
Densité : 62.43 hab./km²
Superficie : 676 552 km²
Capitale : Yangon
Principales villes : Mandalay, Moulmein, Pegu, Bassein, Akyab, Myeik
Point culminant : Hkakabo Razi 5 881 m.
Langue(s) parlée(s) : Birman, Karen, Shan, Tibéto-birman
Langue(s) officielle(s) : Birman
Monnaie : Kyat
Fête nationale : 4 janvier


1

simplysuzu Moments of Simplicity
http://simplysuzu.blogspot.com/

Burma also known as Myanmar ( , or ), is a sovereign state in Southeast Asia. It is bordered by India, Bangladesh, China, Laos and Thailand. One-third of Burma's total perimeter of forms an uninterrupted coastline along the Bay of Bengal and the Andaman Sea. At 676,578 km2 (261,227 sq mi), it is the 40th largest country in the world and the second largest country in Southeast Asia. Burma is also the 24th most populous country in the world with over 60.28 million people.



Since independence in 1948, the country has been in one of the longest running civil wars among the country's myriad ethnic groups that remains unresolved. From 1962 to 2011, the country was under military rule. The military junta was officially dissolved in 2011 following a general election in 2010 and a nominally civilian government installed, though the military retains enormous influence.



Burma is a resource-rich country. However the Burmese economy is one of the least developed in the world. Burma's GDP stands at $42.953 billion and grows at an average rate of 2.9% annually – the lowest rate of economic growth in the Greater Mekong Subregion. Among others, the EU, United States and Canada have imposed economic sanctions on Burma. Burma's health care system is one of the worst in the world: The World Health Organization ranked Burma at 190th, the worst performing of all countries.



The United Nations and several other organizations have reported consistent and systematic human rights violations in the country, including genocide, systematic rape, child labour, slavery, human trafficking and a lack of freedom of speech. Nevertheless in recent years, the government has slowly been improving relations with the major powers like the United States, Japan and European Union countries.