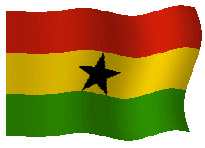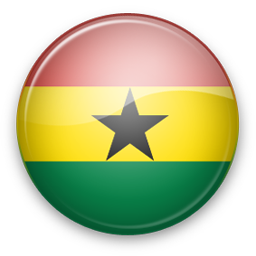 Population : 20 244 154 habitants (est. 2002)
Pays voisins : Côte d'Ivoire, Togo, Burkina Faso
Densité : 84.87 hab./km²
Superficie : 238 538 km²
Capitale : Accra
Principales villes : Kumasi, Tamale, Tema, Secondi-Takoradi, Cape Coast, Koforidua, Sunyani, Ho
Point culminant : Afadjoto 885 m.
Langue(s) parlée(s) : Akan, Ewe, Dagbanli, Adangme, Dagaare-wali, Ga
Langue(s) officielle(s) : Anglais
Monnaie : Cedi
Fête nationale : 6 mars
Individuals
desiring
help me
hired
for the expansion of
this site
have this
badge




1
PRISCYSWORLD
http://apysworld.blogspot.com/

2
Efua Dentaa
http://dentaa.blogspot.com/

3
DiDi`S Zone...
http://didis-view.blogspot.com/

4
the writings of a Ghanaian girl
http://thewritingsofaghanaiangirl.blogspot.com/

5
Zoharous
http://zoharous.blogspot.com/

6
bijoux qui brillent
http://tcompah.blogspot.com/

7
Kodjo Deynoo Poetry
http://poetrysoundbites.blogspot.com/

8
O'Costa
http://bencosta.blogspot.com/

9
Off to Ghana, see you later.
http://siwanemilyghana.blogspot.com

/

10
VeeVibe
http://myveevibe.blogspot.com/

11
N-A-S-H
http://nash-dodoo.blogspot.com/

12
THIS Point of View.
http://arisa-blogs.blogspot.com/

13
Ramblings of a Procrastinator in Accra
http://chardonas.blogspot.com/

14
Good News From Ghana
http://goodnewsghana.blogspot.com/

15
Circumspect
http://www.circumspecte.com/

16
Spanny
http://spannyb.blogspot.com/

17
HUBBITY
http://hubbity.blogspot.com

/

18
Cakes by Elsie Aikens
http://cakesbyelsieaikens.blogspot.com/

19
My Blog. Sakyiwaa Mensah
http://akosuasakyiwaa.blogspot.com/

20
DOCIA'S NEST
http://deede78.blogspot.com/

21
LIFESTYLE
http://gegeofafrica.blogspot.com/

22
The Words Of An Obaahemaa
http://obaahemaaentsei1.blogspot.com/

23
my inner thoughts and external adventures
http://monicajeannormil.blogspot.com/

24
PROMOAFRICA
http://promoafrica.blogspot.com/

25
deeptots
http://sey-deeptots.blogspot.com/

26
The Savvy Dial
http://francescaandoh.blogspot.com/

27
Purple Ivy
http://www.purrpleivy.com/

28
Planky Girl
http://plankygirl.blogspot.com/

29
FASHION & BEAUTY BLOG
http://winskysbeautybox.blogspot.com/

Ghana is a country located in West Africa. It is bordered by Côte d'Ivoire (Ivory Coast) to the west, Burkina Faso to the north, Togo to the east, and the Gulf of Guinea to the south. The word Ghana means "Warrior King" and is derived from the ancient Ghana Empire.



Ghana was inhabited in pre-colonial times by a number of ancient predominantly Akan kingdoms, including the inland Ashanti Empire, the Akwamu, the Akyem, the Bonoman, the Denkyira, and the Fante among others. Non-Akan states created by the Ga also existed as did states by the Dagomba. Prior to contact with Europeans trade between the Akan and various African states flourished due to Akan's gold wealth. Trade with European states began after contact with the Portuguese in the 15th century, and the British established the Gold Coast Crown colony in 1874 over parts but not all of the country.



The Gold Coast achieved independence from the United Kingdom in 1957, becoming the first sub-Saharan African nation to do so, from European colonialism. The name Ghana was chosen for the new nation to reflect the ancient Empire of Ghana, which once extended throughout much of west Africa.



Ghana is a member of the South Atlantic Peace and Cooperation Zone, the United Nations, the Commonwealth of Nations, the African Union, the Economic Community of West African States, and an associate member of La Francophonie. Ghana is one of the largest cocoa producers in the world, and is also home to Lake Volta, the largest artificial lake in the world by surface area.