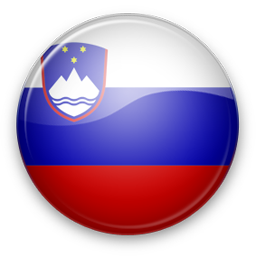 Population : 1 932 917 habitants (est. 2002)
Pays voisins : Italie, Autriche, Hongrie, Croatie
Densité : 95.45 hab./km²
Superficie : 20 251 km²
Capitale : Ljubljana
Principales villes : Maribor, Koper, Kranj, Celje, Trbovlje, Jesenice
Point culminant : Triglav 2 863 m.
Langue(s) parlée(s) : Slovène
Langue(s) officielle(s) : Slovène
Monnaie : €URO
Fête nationale : 25 juin
Imperative!
Maintenance of the "Directory" blog labor intensive
Please follow our blog to your application to this community!
thank you

1
TOMO ŠAVS--FOTO
http://tomofotoblog.blogspot.com/

2
Fleš; Making Fashion
http://fles-making-fashion.blogspot.com/

3
Dee Among Beauty Drawers
http://amongbeautydrawers.blogspot.com/

Slovenia ( ; : ; ), officially the Republic of Slovenia is a nation state, situated in Central Europe, It borders Italy to the west, Austria to the north, Croatia to the south and southeast and Hungary to the northeast. It covers and has a population of 2.05 million. It is a parliamentary republic and a member of the European Union and NATO. Relative to its geography, history, economy, culture, and language, it is a very diverse country distinguished by a transitional character. It is characterised by a high economic and social level. Its capital and largest city is Ljubljana.



The territory of Slovenia is mainly hilly or mountainous and has a mosaic structure and an exceptionally high landscape and biological diversity, which are a result of natural attributes and the long-lasting presence of humans. Four major European geographic units interweave here: the Alps, the Dinaric Alps, the Mediterranean, with a small portion of coastline along the Adriatic Sea, and the Pannonian Plain. The country is one of the water-richest in Europe, with a dense river network, a rich aquifer system, and significant karstic underground watercourses. Over half of the territory is covered by forest.



The settlement of Slovenia is dispersed and uneven. The Slavic, Germanic, Romance and Finno-Ugric linguistic and cultural groups meet here. The dominant population is Slovene, although it has almost never been homogenous. Slovene is the only official language throughout the country, whereas Italian and Hungarian are regional minority languages. Slovenia is a largely secularised country, but its culture and identity have been significantly influenced by Roman Catholicism as well as Lutheranism. The economy of Slovenia is small, open, export-oriented and subsequently, heavily influenced by international circumstances. It has been severely hurt by the European economic crisis, started in late 2000s. Many Slovenians reach top sport successes, particularly in winter sports, water sports, mountaineering, and endurance sports.



Historically, the current territory of Slovenia was part of many different state formations, including the Roman Empire and the Holy Roman Empire, followed by the Habsburg Monarchy. In 1918, the Slovenes exercised self-determination for the first time by co-founding the internationally unrecognized State of Slovenes, Croats, and Serbs, which merged into Yugoslavia. During World War II, Slovenia was occupied and annexed by Germany, Italy, Hungary, and Croatia, only to emerge afterwards as a founding member of the Socialist Federal Republic of Yugoslavia. In June 1991, after the introduction of multi-party representative democracy, Slovenia became an independent country. In 2004, it entered NATO and the European Union, in 2007 became the first former Communist country to join the Eurozone, and in 2010 joined the OECD, a global association of high-income developed countries.