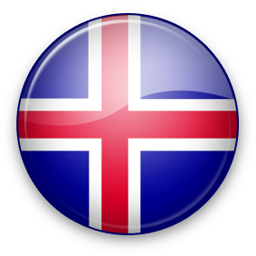 Population : 279 384 habitants (est. 2002)
Densité : 2.72 hab./km²
Superficie : 102 845 km²
Capitale : Reykjavík
Principales villes : Kópavogur, Hafnarfjörður, Akureyri, Keflavík, Akranes, Isafjörður, Húsavík, Neskaupstaður, Siglufjörður
Point culminant : Hvannadalshnúkur 2 119 m.
Langue(s) parlée(s) : Islandais
Langue(s) officielle(s) : Islandais
Monnaie : Couronne islandaise
Fête nationale : 17 juin






1

bebeautiful-you
www.bebeautiful-you.blogspot.com/

2

Shades of Style
http://www.shades-of-style.com/

3

Viking Mode
http://vikingmode.blogspot.com/

4

Fríða
http://handavinnufrida.blogspot.com/

5

When I think of angels I think of you - my art
http://siggadisart.blogspot.com/

6

Where the wild rose grows
http://eddarosskula.blogspot.com/

7

Dream - Believe - Achieve
http://www.hhafsteins.com/

8

Björk Guðmundsdóttir
http://gudmundsdottirbjork.blogspot.com/

9

Silja skrifar
http://siljag.blogspot.com/

10

the belly rules the mind
http://janajons.blogspot.com/

11

Kreatywne Wibracje Indii
http://kreatywnewibracjeindii.blogspot.com/

12

Hugrenningar Guðnýjar
http://gudnypalina.blogspot.com/

13

Lost in a daydream...
http://mluthersdottir.blogspot.com/

14

Föndrari af lífi og sál
http://fondrari.blogspot.com/

15

Blúndur og blóm
http://blundurogblom.blogspot.com/

16

Heima
http://adda-heima.blogspot.com/

17

Living In The Country
http://asborgir.blogspot.com/

18

Roser og Patina
http://roserogpatina.blogspot.com/

19

ANTÍ
http://antiphotographer.blogspot.com/

20

Mani & More
http://maniandmore.blogspot.com/

21

S&S
http://solliljas.blogspot.com/

22

HH
http://hharaldsdottir.blogspot.com/

23

Sara Björg Pétursdóttir
http://sarapeturs.blogspot.com/

24

Kristín Hrund
http://kh-handcrafts.blogspot.com/

25

Maria Guðjohnsen
http://mariahelga.blogspot.com/

26

The Jolly Giantess: Tales from across the Whale-Road
http://jolly-giantess.blogspot.com/

27

madebymarta
http://martasdesigns.blogspot.com/

28

Viking Mode
http://vikingmode.blogspot.com/

Iceland is a Nordic European island country situated at the confluence of the North Atlantic and Arctic Oceans, on the Mid-Atlantic Ridge. The country has a population of about 320,000 and a total area of , which makes it the most sparsely populated country in Europe. The capital and largest city is Reykjavík, with the surrounding areas in the southwestern region of the country being home to two-thirds of the country's population. Iceland is volcanically and geologically active. The interior consists mainly of a plateau characterised by sand and lava fields, mountains and glaciers, while many glacial rivers flow to the sea through the lowlands. Iceland is warmed by the Gulf Stream and has a temperate climate despite a high latitude just outside the Arctic Circle.



According to Landnámabók, the settlement of Iceland began in AD 874 when the chieftain Ingólfur Arnarson became the first permanent Norse settler on the island. while maintaining a Nordic welfare system that provides universal health care and tertiary education for its citizens. In recent years, Iceland has become one of the wealthiest and most developed nations in the world. In 2011, it was ranked as the 14th most developed country in the world by the United Nations' Human Development Index, and the fourth most productive country per capita. In 2008, the nation's entire banking system systemically failed, resulting in substantial political unrest. Iceland ranks high in economic and political stability, though it is still in the process of recovering from the crisis.



Icelandic culture is founded upon the nation's Norse heritage. Most Icelanders are descendants of Norse and Gaelic settlers. Icelandic, a North Germanic language, is descended from Old Norse and is closely related to Faroese and some West Norwegian dialects. The country's cultural heritage includes traditional Icelandic cuisine, poetry, and the medieval Icelanders' sagas. Among NATO members, Iceland has the smallest population and is the only one with no standing army.