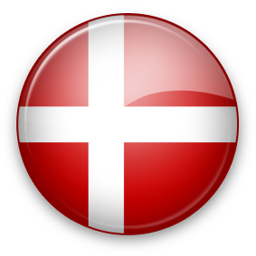 Population : 5 368 854 habitants (est. 2002)
Pays voisins : Allemagne
Densité : 124.65 hab./km²
Superficie : 43 070 km²
Capitale : Copenhague
Principales villes : Århus, Odense, Ålborg, Esbjerg, Randers, Elseneur, Kolding, Herning, Horsens, Vejle, Roskilde, Naestved
Point culminant : Yding Skovhøj 173 m.
Langue(s) parlée(s) : Danois
Langue(s) officielle(s) : Danois
Monnaie : Couronne danoise
Fête nationale : 5 juin
Imperative!
Maintenance of the "Directory" blog labor intensive
Please follow our blog to your application to this community!
thank you


1

copenhagengirlsonbikes
http://copenhagengirlsonbikes.blogspot.com/

2

coffee-noon
http://coffee-noon.blogspot.com/

3

Helena Lindvig
http://www.helenalindvig.com/

4

Betina Just me
http://betinadanielsen.blogspot.com/

5

Sara Bukhave. ♥
http://sarabukhave.blogspot.com/

6

Christina Lewis
http://christina-lewis.blogspot.com/

7

En blog om Simones hverdag
http://simoneshverdag.blogspot.com/

8

The time of my life.
http://helenehyldgaard.blogspot.com/

9

SofieMarkusen
http://sofiemarkusen.blogspot.com/

10

Cecilie Hansen
http://www.ceciliehansen.com/

11

Vanessa Wagner NESSAS BLOG♥
http://hejnessa.blogspot.com/

12

TWIST THE RHYTHM
http://twisttherhythm.blogspot.com/

13

Behind Annas eyes
http://behindannaseyes.blogspot.com/

14

rikkesunds IN TOUCH
http://rikkesunds.blogspot.com/

15

Anna Seeberg Hansen
http://annaseeberghansen.blogspot.com/

16

My life - Klara
http://mylifeklara.blogspot.com/

17

blogget af Trine
http://trinelikesfashion.blogspot.com/

18

Majken Life by an ordinary girl
http://lifebyanordinarygirl.blogspot.com/

19

Laura Gruchot Olandersen
http://lauragruchotolandersen.blogspot.com/

20

FASHION AND STUFF LIKE THAT
http://fashion-and-stuff-like-that.blogspot.com/

21

By Torp
http://bytorp.blogspot.com/

22

Sally Dorthea Fischer
http://fischersfashionfairytale.blogspot.com/

23

Thiravisha Thiraviarajah
http://bythiravisha.blogspot.com/

24

Laura Liin
http://lauraliin.blogspot.com/

25

Astrid Jakobsen
http://astridjakobsen.blogspot.com/

26

Iben Holse Mortensen
http://ibenhm.blogspot.com/

27

Maiken Bruun Blame it on the coffee
http://blameitonthecoffee.blogspot.dk/

28

Mari~~☆*:.Agepoyo.:*☆...
http://hellow-mari.blogspot.com/

29

lipoooo
http://lipoooo.blogspot.com/

30

FashionUpdates
http://fashionupdatesdk.blogspot.com/

31

Minela Älskling
http://minelakahrimanovic.blogspot.com/

32

Marias Nail Art and Polish Blog
http://mariasnailpolishblog.blogspot.com/

33

Rainbowify Me ~ Nail blog
http://rainbowifyme.blogspot.com/

34

Sanne's blog
http://gt-sanne2.blogspot.com/

35

cardandscrap
http://pictureandscrap.blogspot.com/

36

Scraps
http://vivi-scraps.blogspot.com/

37

min scrapside
http://minscrapside.blogspot.dk/

38

Doennergaarden
http://doennergaarden.blogspot.com/

39

gretheB`s blog
http://gbkort.blogspot.com/

40

morkarens hjørne
http://morkaren-morkarenshjrne.blogspot.com/

41

Meet The Creative Part of Me
http://tatjanaknudsen.blogspot.com/

42

small steps everyday
http://jmwn.blogspot.com/

43

Fashiionistah
http://fashiionistah.blogspot.com/

44



Fasters korthus
http://fasterskorthus.blogspot.dk/

45

Marias Nail Art and Polish Blog
http://mariasnailpolishblog.blogspot.com/

Denmark's history has particularly been influenced by its geographical location between the North and Baltic seas. This meant that it was between Sweden and Germany and thus at the center of the mutual struggle for control of the Baltic Sea; before the digging of the Kiel Canal, water passage to the Baltic Sea was possible only through the three channels known as the "Danish straits". Denmark was long in disputes with Sweden over control of Skånelandene (Scanian War) and Norway, and in disputes with the Hanseatic League over the duchies of Schleswig (a Danish fief) and Holstein (a German fief). Eventually Denmark lost the conflicts and ended up ceding first Skånelandene to Sweden and later Schleswig-Holstein to the German Empire. Denmark obtained Greenland and the Faroe Islands in 1814 after the dissolution of a personal union with Norway, although the Danish monarchy, which had ruled over both Norway and Denmark, had been in possession of the colonies since the fourteenth century. The Faroe Islands and Greenland both became integral parts of the Danish Realm in the twentieth century and were granted home rule in 1948 and 1979 respectively.



Denmark became a member of the European Union in 1973 but remains outside the Eurozone, while both Greenland and the Faroe Islands have exercised their right to remain outside the EU entirely. A founding member of the United Nations, NATO and the OECD, Denmark is also a member of the Organization for Security and Co-operation in Europe (OSCE). With a mixed market economy and a large welfare state, Denmark ranks as having the world's highest level of income equality, and has the world's seventh highest per capita income. It has frequently ranked as the happiest and least corrupt country in the world. In 2011, Denmark was listed 16th on the Human Development Index (8th on the inequality-adjusted HDI), 3rd on the Democracy Index and 2nd on the Corruption Perceptions Index. The national language, Danish, is closely related to Swedish and Norwegian, with which it shares strong cultural and historical ties. Denmark, along with Sweden and Norway, is part of the cultural region known as "Scandinavia" and is also a member of the Nordic Council.