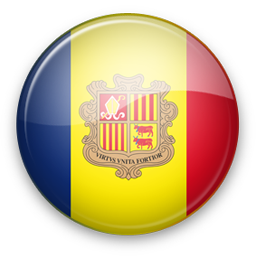 Population : 68 403 habitants (est. 2002)
Pays voisins : France, Espagne
Densité : 146.79 hab./km²
Superficie : 466 km²
Capitale : Andorra-la-Vella
Principales villes : Les Escaldas, Canillo, Encamp, La Massana
Point culminant : Coma Pedrosa 2 946 m.
Langue(s) parlée(s) : Catalan, Espagnol, Français
Langue(s) officielle(s) : Catalan
Monnaie : €URO
Fête nationale : 8 septembre

1

BeFashionByAna
http://iloveshopbyana.blogspot.com/

2

Lamà dela Mar
http://lamadelamar.blogspot.com/

3

Que te parece?
http://nuuky.blogspot.com/

4

Style lover
http://www.styleandfashionlover.com/

5

_,»*¯*«♥ PLANETA ROJO »*¯*«,_
http://pijasmojadas.blogspot.com/

6

((_,»*¯*«♥ PECADORA »*¯*«,_))
http://yolapecadora.blogspot.com/

7

© Sexo y Fetichismo
http://sexoyfetichismo.blogspot.com/

8

Anoircre
http://www.anoircre.com/

Andorra , officially the Principality of Andorra , also called the Principality of the Valleys of Andorra, (Catalan: Principat de les Valls d'Andorra), is a landlocked microstate in Southwestern Europe, located in the eastern Pyrenees mountains and bordered by Spain and France. It is the sixth smallest nation in Europe, having an area of and an estimated population of 85,000 in 2012. The official language is Catalan, although Spanish, Portuguese, and French are also commonly spoken.



The Principality was formed in 1278. The role of monarch is exercised jointly by the two co-princes, the Catalan Bishop of Urgell and the President of France (the whole state is a part of the Diocese of Urgell).



Andorra is a prosperous country mainly because of its tourism industry, which services an estimated 10.2 million visitors annually, and also because of its status as a tax haven. It is not a member of the European Union, but the euro is the de facto currency. The people of Andorra have the 4th highest human life expectancy in the world — 82 years at birth.