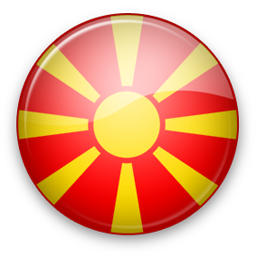 Population : 2 054 800 habitants (est. 2002)
Pays voisins : Albanie, Bulgarie, Grèce, Serbie et Monténégro
Densité : 79.91 hab./km²
Superficie : 25 713 km²
Capitale : Skopje
Principales villes : Bitola, Prilep, Brod, Titov, Tetovo, Kumanovo
Point culminant : Korabi 2 764 m.
Langue(s) parlée(s) : Macédonien, Albanais
Langue(s) officielle(s) : Macédonien
Monnaie :
Fête nationale : 2 août
Imperative!
Maintenance of the "Directory" blog labor intensive
Please follow our blog to your application to this community!
thank you

1

TAMARA
http://tami-s.blogspot.com/

2

"DANNA"- ART JEWELRY
http://dannashandmade.blogspot.com/

3

What I love...
http://what-maria-loves.blogspot.com/

4

My Perfect Lounge
http://myperfectlounge.blogspot.com/

5

Fashion care of woman
http://fashioncareofwoman.blogspot.com/

6

MarijaM The Dream Of Style
http://thedreamofstyle.blogspot.com/

7

elena's blog
http://ej277.blogspot.com/

8

Sanja's Burgundy Blog
http://sanjaburgundy.blogspot.com/

9

Vezilka
http://aleksandrinavezilka.wordpress.com/

10

I'm A Love Addict
http://imloveaddict.blogspot.com/

11

International Fashion Giveaways
http://internationalfashiongiveaways.blogspot.com/

Macedonia , officially the Republic of Macedonia (, transliterated: Republika Makedonija ), is a country located in the central Balkan peninsula in Southeast Europe. It is one of the successor states of the former Yugoslavia, from which it declared independence in 1991. It became a member of the United Nations in 1993 but, as a result of a dispute with Greece over its name, it was admitted under the provisional reference of the former Yugoslav Republic of Macedonia, sometimes abbreviated as FYROM.



A landlocked country, the Republic of Macedonia is bordered by Kosovo to the northwest, Serbia to the north, Bulgaria to the east, Greece to the south and Albania to the west. It constitutes approximately the northwestern half of the larger geographical region of Macedonia, which also comprises parts of Greece and Bulgaria. The country's capital is Skopje, with 506,926 inhabitants according to a 2002 census. Other cities include Bitola, Kumanovo, Prilep, Tetovo, Ohrid, Veles, Štip, Kočani, Gostivar, Kavadarci and Strumica. It has more than 50 lakes and sixteen mountains higher than . Macedonia is a member of the UN and the Council of Europe. Since December 2005 it has also been a candidate for joining the European Union and has applied for NATO membership