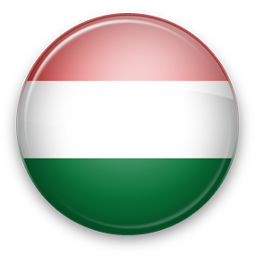 Population : 10 075 034 habitants (est. 2002)
Pays voisins : Autriche, Slovaquie, Ukraine, Roumanie, Serbie et Monténégro, Croatie, Slovénie
Densité : 108.30 hab./km²
Superficie : 93 030 km²
Capitale : Budapest
Principales villes : Debrecen, Miskolc, Szeged, Pécs, Györ, Nyîregyháza, Szekesfehérvár, Kecskemét, Szombathely, Szolnok
Point culminant : Kékes 1 015 m.
Langue(s) parlée(s) : Hongrois
Langue(s) officielle(s) : Hongrois
Monnaie :
Fête nationale : 20 août

1

Alkotókuckó
http://alkotokucko.blogspot.com/

2

JuStyled
http://justyled.blogspot.com/

3

Káli Gopika design
http://kaligopika.blogspot.com/

4

India varázsa / Magic of India
http://indiavarazsa.blogspot.com/

5

Krittigyöngy
http://krittigyongy.blogspot.com/

6

Ildikó gyöngyszemei
http://ildikogyongyszemei.blogspot.com/

7

... ♥ szívből, szeretettel ♥ ...
http://katagyongye.blogspot.com/

8

Gyöngyzug
http://gyongyzug.blogspot.com/

9

MissJay Anonyme
http://anonyme-missjay.blogspot.com/

10

icu-fldvrfel
http://icu-fldvrfel.blogspot.com/

11

diaporamaskatipps
http://diaporamaskatipps.blogspot.com/

12

Ewa gyöngyös világa!
http://ewagyongyosvilaga.blogspot.com/

13

Gyöngyzug
http://gyongyzug.blogspot.com/

14

Méri világa
http://mrimunki.blogspot.com/

15

tiszigyongy
http://tiszigyongy.blogspot.com/

16

Lelkem egy darabja
http://kedves-m.blogspot.com/

17

Csodálatos természet
http://csend-hangja.blogspot.com/

18

Az örök gyermekség
http://angyali-pillanatok.blogspot.com/

19

Szerelem-szenvedély-vágy
http://szerelem-szenvedly-vgy.blogspot.com/

20

A lélek csendje
http://allekcsendje.blogspot.com/

21

JuStyled
http://justyled.blogspot.com/

22

Kinga Ovari Selenia von Arthur
http://seleniavonarthur.blogspot.com/

23

ANGYALOK
http://marcsikahonlapja.blogspot.com/

24

mesmemosphotoblog
http://mesmemosphotoblog.blogspot.com/

Hungary is a landlocked country in Central Europe. It is situated in the Carpathian Basin and is bordered by Slovakia to the north, Ukraine, and Romania to the east, Serbia, and Croatia to the south, Slovenia to the southwest and Austria to the west. The country's capital, and largest city, is Budapest. Hungary is a member of the European Union, NATO, the OECD, the Visegrád Group, and the Schengen Agreement. The official language is Hungarian, also known as Magyar, which is part of the Finno-Ugric group and is the most widely spoken non-Indo-European language in Europe.



Following periods of successive habitation by Celts, Romans, Huns, Slavs, Gepids, and Avars, the foundation of Hungary was laid in the late 9th century by the Hungarian grand prince Árpád, whose great-grandson Saint Stephen I ascended to the throne in 1000 AD with a crown sent by Pope Sylvester II from Rome. The Kingdom of Hungary existed for 946 years, and at various points was regarded as a major political power in Europe, one of the cultural centres of the Western world. After about 150 years of partial Ottoman occupation (1541–1699), Hungary was integrated into the Habsburg Monarchy, and later constituted half of the Austro–Hungarian Empire (1867–1918).



A great power until the end of World War I, Hungary subsequently lost about 70 percent of its territory, one third of its ethnic Hungarian population, and all its sea ports under the Treaty of Trianon, the terms of which have been considered excessively harsh by many in Hungary. The kingdom was succeeded by an authoritarian regime, and then a Communist era (1947–1989). Hungary gained widespread international attention during the Revolution of 1956 and the seminal opening of its border with Austria in 1989, which accelerated the collapse of the Eastern Bloc.



Since 1989, Hungary has been governed as a democratic parliamentary republic, and is today considered a developed country with a high-income economy. Hungary is one of the thirty most popular tourist destinations in the world, attracting 10.2 million tourists a year (2011). The country is home to the largest thermal water cave system and the second largest thermal lake in the world (Lake Hévíz), the largest lake in Central Europe (Lake Balaton), and the largest natural grasslands in Europe (Hortobágy).