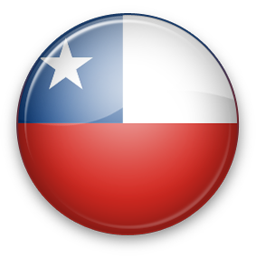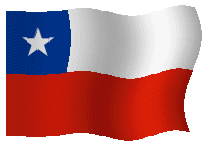 Population : 15 498 930 habitants (est. 2002)
Pays voisins : Pérou, Bolivie, Argentine
Densité : 20.48 hab./km²
Superficie : 756 945 km²
Capitale : Santiago
Principales villes : Viña del Mar, Valparaíso, Concepcíon, Talcahuano, Temuco, Antofagasta, Rancagua, Arica, Talca, Puerto Montt, Punta Arenas
Point culminant : Cerro Ojos del Salado 6 863 m.
Langue(s) parlée(s) : Espagnol, Mapudungun
Langue(s) officielle(s) : Espagnol
Monnaie : Peso
Fête nationale : 18 septembre
La inscripción para el "World Directory Blogspot" son gratuitas. Envía tu blog Para más establecer relaciones entre diferentes países! Imperativo para seguir nuestro blog para validar su registration.Thank por su comprensión

1

Kanes
http://kfrikiadas.blogspot.com/

2



Yannelitta
http://manualidades-yannelitta.blogspot.com/

3

Venus
http://lospecesdevenusyeros.blogspot.com/

4

CENDRE ET PLUMES
http://anarosabustamanteduchile.blogspot.com/

5

NEGRA CHÚCARA
http://negrachucara.blogspot.com/

6

Fran Escobar
http://howclassy.blogspot.com/

7

casa dulce hogar
http://casadulcehogar.blogspot.com/

8

artesaniaducam
http://artesaniaducam.blogspot.com/

9

elcanelodemaipu
http://elcanelodemaipu.blogspot.com/

10

Lula, Vintage y Otras Cosas
http://lulavintage.blogspot.fr/

11

LO QUE ME GUSTA DE TI
http://lalalulapilula-loquemegustadeti.blogspot.com/

12

Lula premios y regalitos
http://lulapremiosyregalitos.blogspot.com/

13

lalalulapilula
http://lalalulapilula.blogspot.com/

14

antihuala
http://antihuala.blogspot.com/

15

Mujer versus Límites
http://mujerversuslimites.blogspot.com/

16

Espejo del Alma
http://blogespejodelalma.blogspot.com/

17

PINTURAS TRISOT
http://pinturastrisot.blogspot.com/

18

Famous Album Covers
http://famousalbumcovers.blogspot.com/

19

Nothing and Insight
http://nothingandinsight.blogspot.com/

20

arteartistadelmundo
http://arteartistadelmundo-pintura.blogspot.com/

21

i'm an artist man
http://imanartistman.blogspot.com/

22

Esperando un mañana
http://esperandounmaana.blogspot.com/

23

Elizabeth Girasoles
http://girasoles-en-flor.blogspot.com/

24

Planeta de Escritores
http://pdescritores.blogspot.com/

25

PASO A PASO HASTA QUE PUEDA CORRER
http://lulurulitos.blogspot.com/

26

Made in Chile
http://xmadeinchilex.blogspot.com/

27

Porque tengo que escribir
http://porquetengoqueescribir.blogspot.com/

28

El punto de las manualidades
http://puntomanualidades.blogspot.com/

29

♥♥♥ O.oExisTe aLguieN paRa Mi o.O ♥♥♥
http://sradeath.blogspot.com/

Chile, officially the Republic of Chile is a country in South America occupying a long, narrow strip of land between the Andes mountains to the east and the Pacific Ocean to the west. It borders Peru to the north, Bolivia to the northeast, Argentina to the east, and the Drake Passage in the far south. Along with Ecuador, it is one of two countries in South America that do not border Brazil. Chilean territory includes the Pacific islands of Juan Fernández, Salas y Gómez, Desventuradas and Easter Island. Chile also claims about of Antarctica, although all claims are suspended under the Antarctic Treaty.



Chile's distinctive shape— long and on average wide—makes it the longest country in the world in terms of length-to-width ratio, with the fifth lengthiest coastline at over . The diverse climate of Chile ranges from the world's driest desert in the north—the Atacama—through a Mediterranean climate in the centre, humid subtropical in Easter Island, to an Oceanic climate, including alpine tundra and glaciers in the east and south. The northern desert contains great mineral wealth, principally copper. The relatively small central area dominates in terms of population and agricultural resources, and is the cultural and political center from which Chile expanded in the late 19th century when it incorporated its northern and southern regions. Southern Chile is rich in forests and grazing lands, and features a string of volcanoes and lakes. The southern coast is a labyrinth of fjords, inlets, canals, twisting peninsulas, and islands.



Prior to the arrival of the Spanish in the 16th century, northern and central Chile was under Inca rule while independent Mapuche inhabited south-central Chile. Chile declared its independence from Spain on 12 February 1818. In the War of the Pacific (1879–83), Chile defeated Peru and Bolivia and won its current northern territory. It was not until the 1880s that the Mapuche were completely subjugated. Although relatively free of the coups and arbitrary governments that blighted South America, Chile endured a 16½-year long military dictatorship (1973–1990) that left more than 3,000 people dead or missing. and an emerging economy. It leads Latin American nations in human development, competitiveness, income per capita, globalization, economic freedom, and low perception of corruption. It also ranks high regionally in sustainability of the state, democratic development and state of peace. However, it has a high economic inequality, as measured by the Gini index. In May 2010, Chile became the first South American nation to join the Organisation for Economic Co-operation and Development. Chile is a founding member of the United Nations, the Union of South American Nations and the Community of Latin American and Caribbean States.